500-700kgh wood pellet mill
C55 wood pellet line is the complete wood pellet plant from Crushing to Packing which include screw conveyor, crusher, silo, ring die pellet mill, Cooler, grading sieve machine, packing machine and control cabinet, etc.
The main structure of ring die wood pellet mill includes the feeder, conditioner, granulating, transmission, lubrication, and other components. Its moisture requirements in the long and stepless working process is not more than 15 percent with powder from the hopper into the feed cutter. With adjusting the speed by the speed regulation motor, the powder accesses to suitable material flow, and then enters the conditioner, stirred through stirring rod equably.
If necessary, it can be added with oil or molasses, or with the two together from the steam drum and quenched and tempered (oil limb addition should be less than 3 percent, or it will be difficult to form). After the quenching and tempering, the temperature of powder will rise to 64 ~ 85 ° C, and relative humidity to 14-16 percent. Then by iron absorption through the chute after mixing device the powder remove iron impurities, and get into the final suppression room.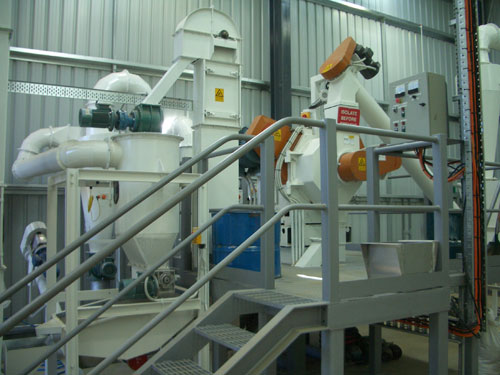 Characteristic: Middle capacity; Lower investment; Welcomed by most customers.
Wood Pellet Line Key Parameter:
Capacity: 500-700kg/h. Dia. 6mm pellet
Pellet Density: 1.2-1.3g/cm3
Raw Material Moisture: 12-15%
Pellet Rate: ≥95%
Flow Chart of Drying: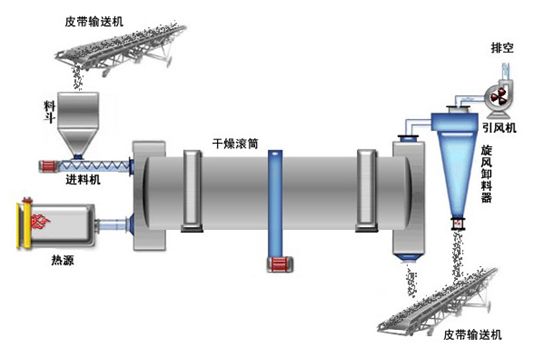 Flow Chart of Wood Pellet Line: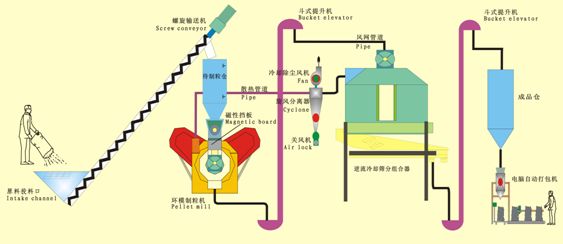 Project Photos of Wood Pellet Line: