EFB pellet machine
EFB pellet machine is used to produce biofuel energy pellets from EFB fiber, or generally known as palm fiber.

Why use EFB/Palm fiber to make pellets?
Since the shredded EFB fiber in palm processing industry is bulk in volume, high in moisture and low in calorific value, it is not suitable for burning directly or for transportation. However, when made into pellets, they are a reliable

biofuel resource.
What can EFB pellets used for?
They can be used for burning in
power plant,
boiler,
house hold BBQ rack,
or centralize steam boiler.
We can do complete EFB pellet plant from 1-4 tons per hour!
We have built some 1-4 tons per hour EFB palm fiber pellet processing plants overseas. Send us Email and get the video of EFB pellet production plant for free!
The EFB pellets made by our pellet machine have the following features:
Low moisture in nature. The moisture of EFB pellet is around 8-12% whereas it is 50-60% for original EFB/palm fiber. This also means the saving of transportation cost because of the reduced weight of moisture.
Higher heat value and efficiency. Since the EFB pellets are dryer than fiber, they are also more fully burned and can release more efficient heat instead of wasting energy for heating the extra moisture in fiber.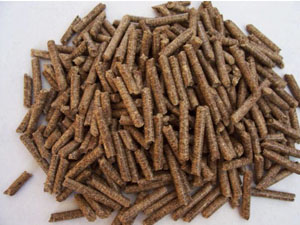 EFB pellets are easy to handle or store because of their smaller volume and higher density.
Suitable for most boilers. The diameter of EFB pellets are normally around 8mm while length is about 20-30mm, so they are suitable for most boiler input grate.
EFB pellets generate low or no smoke while burned. As a result, you needn't worry about air pollution caused by combustion.

If you are planning to set up an EFB pellet plant which can process 1-4 tons per hour, please feel free to contact us for more details!