Wood Pellet Line (1-2ton)
Wood Pellet Processing Workshop: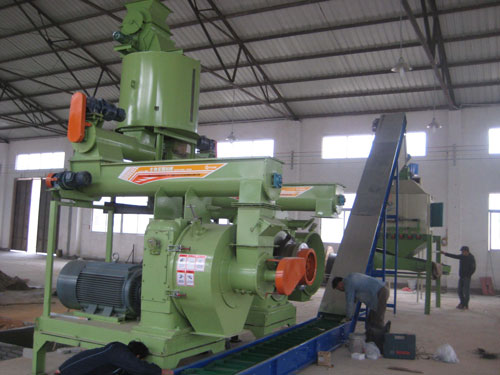 Wood Pellets Line Flow Chart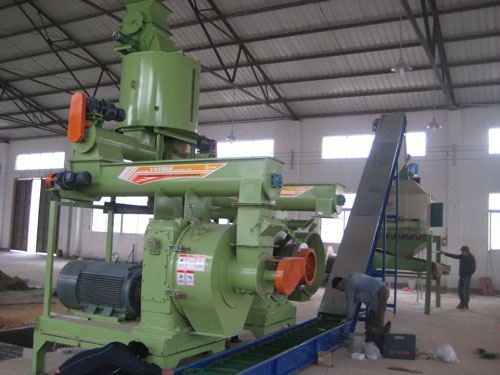 Video of Wood Pellets Line:
Wood Pellets Line Process:
Crushing System:
Before pelletizing, the size of raw material need be less than 3mm in diameter and length, or you should matchthe pellet mill with the wood crusher or hammer.
Drying System:
The best moisture content for pelletizing is 12-15%. So we suggest you use dryer if the moisture of your raw material is higher than 15%. The drying system includes two parts: one is rotary dryer, another is hot blast stove.
The principle of drying is dry the raw materials with using hot air which is offered by the hot blast stove. The quantity of hot air can be controlled according to the quantity of raw material in rotary dryer. It employs automatic control.
Pelletizing System:
After crushing and drying, the raw materials can be put into wood pellet mill. Our wood pellet mill is designed specially for pelletizing all kinds of the wood, such as hardwood and softwood, and we apply different ring die with different compression ratio, whose working principle is extruding between ring die and roller. The advantage of our wood pellet mill is with long lifetime of ring die and roller.
Cooling System:
After the pelletization process, the temperature of the wood pellets is between 60-80 degrees Celsius. The pellets' moisture content is typically about 15%. With the use of a cooler the moisture of the pellets is reduced to 3-4% while simultaneously decreasing the temperature.
Packing System:
After cooling, the wood pellet which will not directly enter into the fuel process should avoid the wood pellet affected with damp. Then the packing machine is necessary. And after packing, the wood pellet can be stored and transported easily.
Wood Pellets Line Photos Display: