Small Mobile Pellet Complete Set
The Small Mobile Pellet Complete Set is our new design and manufactured pellet production line for clients who want to make own pellets at home. This small pellet plant includes pulverizer, cyclone separator, silo, feeder, pellet mill, vibrating screen, bag type dust collector, foundation frame and electric cabinet, which are the main equipments. It can not only process sawdust, stalks and straw, but also pelletize forage and fodder for animals. The raw material covers a range of sawdust, twigs, straw, rice husk and peanut shells... More details we show in the whole plane view of this small complete set.
The video about this small mobile pelletizing system.
Main Technical Parameters
Type: GPM-300R
The range of diameter of pellets: 6-12mm, with pellet density of 1.1-1.3t/m³ and moisture content of ≤8%;
Overall dimension(L*W*H): 3720*2080*2080MM
Brief descripiton of the process:
Pulverizer—cyclone separator—silo—screw conveyor—feeder—pellet mill—vibrating screen —bag-type dust collector
Pellet yield: 250-350kg/h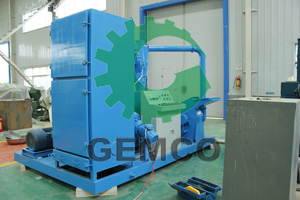 The Key Parts of this Small Mobile Pellet Complete Set as Follows:
1. Pulverizer
This small pellet plant adopts hammer mill. Therefore, for pulverizing section, the output of wihic varies chiefly according to the size and moisture content of the raw material and mesh size.
Lubrication requirements for pulverize: The two bearing pedestals of the hammer mill have a lubricating nipple respectively. Grease should be applied every four hours.
Main Technical Parameter:
Model: TFS-420
Power(kw) :7.5
Yield: 550-700kg/h
Qty of the hammer blades:16
Weight :280kg
Packing size(mm) :1090*820*1100
Other references : Capable of pulverizing lumber with the diameter less than 30mm.
2. Surge Bin
The bin is used for storing raw materials. There are two methods to put the raw material into the bin. On one hand, thanks to air flow, the pulverized material will fall into the bin via cyclone separator; on the other hand, raw material in qualified sizes can be added straightforward from the bin inlet.
3. Screw Elevator
The screw elevator, also named as screw conveyer, is used to convey materials driven directly by the motor. Some tips in operation and maintenance of the elevator are as follows:
Beware of foreign matters and impurities being mixed in the feedstock.
Regular inspection upon the machine should be conducted lest part loosing happens to it.
The feeding speed should be handled properly in order to promise sufficient material supply and in case of build-ups of feedstock inside the bin box which may even result in abnormal running.
The tapered roller bearings on each end should be lubricated every four working hours.
Keep an eye on the sealing packing, the bolts of which shall be tightened for efficient tightness. If it cannot be further adjusted, please change the sealing packing with a whole new one.
The reduction gearbox shall be checked upon the oil level per month to ensure the oil taking up one third of the gearbox. If not, please add it up.
4. Feeder
The feeder, just as shape and structure of the screw conveyer aforementioned, is used for putting feedstock into the pellet mill continuously.
5.ZLSP-300B(R-TYPE) Pellet Mill
The ZLSP series of pellet mills are professionally designed to process biomass raw materials via technology innovation. The sphere of raw materials covers sawdust, straw, rice husks, bamboo shavings, peanut shells, bagasse, alfalfa and so forth.
Pellet Machine Flow:
Main technical parameters:
ZLSP300B R-Typ Motor Pellet Mill(Three Phase)
Power:22KW
Weight:540/575kg
Packing size:1350*750*1400mm
Materials to use-wood and bio material
6. Vibrating Screen
Sifter, just as its name suggested, can also help to cool pellets down at the same time. The pellet crumb and scraps collected under the wire mesh should be cleaned away timely. Meanwhile qualified pellets will be discharged at the rear outlet. During the operation, the sifter works stably. Furthermore, vibrating screen can be converted frequently. While rotating directions of the two motors should keep opposite.
7. Bag Type Dust Collector
It's mainly for collecting powdery material and dust. Due to the collector equipped with an induced fan, not only the ash content of the exhausted air will remarkably reduced, but also the working environment can be kept as much clean as possible. In the same time pellets can also be cooled down,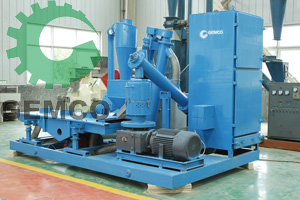 Safe Operation Norms
Before operation, please ensure all connecting parts are tightened well and the ground wire is also in position. Otherwise, do not boot up machines.
During working, any electric element shall not be touched in case of threat to personal safety. If the power supply is still on, do not change any circuitry element.
No touching running components.
Equipment maintainer shall be trained or professional; please stringently stick with principles of electric control; the maintenance should be done under the absolute condition of power off.
The working atmosphere should remain ventilated, with sufficient illumination; no build-up of raw material in the working area; keep the operating place neat and tidy; No firework and no smoking lest deadly explosion occurs.
Please inspect fire protection facilities regularly to realize secure production.
Lubricate all parts as required.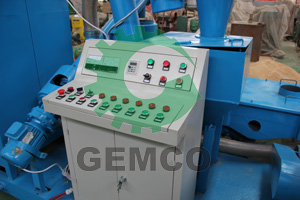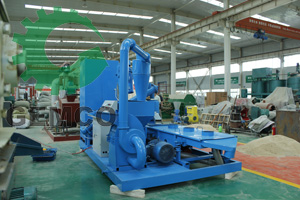 Over many years' practical experience, products of GEMCO, which is our subsidary of AGICO, have been famous to the world esp. wood pellet machine. Now the mobile small pellet complete plant is our new products adopted advanced technology. We are confident that clients will be satisfied with our mobile small pellet complete plant with high quality, high efficiency and competitive price. So if consumers are looking for wood pellet production line, our product is your first choice. Please send e-mail us to get more information.
Quality Guaranteed