Pellet Mill Parts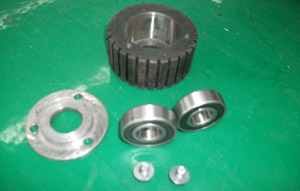 Pellet Mill Bearings
Roll shaft bearings are self-aligning spherical roller bearings. Tapered bearing bore with adaptor sleeve provides positive locking fit with shaft to prevent shaft fretting. Bearings and housings need not be removed during recorrugation. All bearing lube parts are easily accessible for maintenance.

Bearing Housings & Slide Block
Bearing housing and slide block in pellet mill assure positive roll tram (maintain rolls in same horizontal plane for positive particle size control and assures best roll life).

Roll Adjustment
Roll adjustment is made by machine screw jacks. It provides accurate, repeatable gap adjustment and assures parallelism of rolls. Manual handwheel is standard for fine control. Optional full feature design provides remote roll adjust with digital readout. Remote roll stop offers maximum protection against roll-to-roll contact.

Inter-Roll Drives
V-Belt inter-roll drives for silent operation in lower horsepower applications (up to 40 H.P. per pair). Belt tension can be adjusted without removing the guard. Heavy-duty idler arrangement keeps belts positively tensioned.